Top Five Causes of Kitchen Fire Damage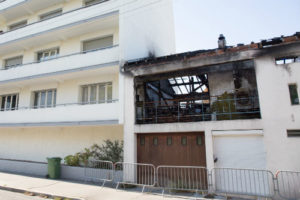 Most of the time, common sense can prevent kitchen fires. However, distractions will occur and accidents can happen at any given moment in homes. The best way to prevent kitchen fires is to always remain alert and keep an eye on your heat source. But if a fire occurs and gets out of control, you'll most likely need to contact a fire damage restoration service immediately to evaluate and restore your kitchen and home. Here are the top five reasons why kitchen fires get started in the first place.
Unattended Cooking
You may think it's ok to step outside and talk to a neighbor, take out the trash, check the mail or do any other activities while you have food cooking on the stove. However, all it takes is one splash of hot grease on a hot burner to start a fire. Leaving food cooking unattended could be a recipe for disaster, so always stay close to the kitchen to prevent a fire outbreak.
Oil Being Too Hot
Heating up your oil too quickly will make it more prone to catching fire. Cooking with oil or grease is a primary cause of kitchen fires because the temperature of the oil quickly increases and can go from smoking oil to a blazing fire in no time. If you think your house smells bad after the oil starts smoking and you have set off the smoke detector, just imagine how it would smell if the oil had caught fire. You may, however, have to contact a smoke damage restoration company immediately to get rid of the smell of the burnt oil.
Not Being Alert
Cooking late at night or early in the morning before you're completely alert is never good. Whenever you are working with an open flame, cooking with oil, or using a microwave or oven be sure you are alert and will be able to stay awake.  Many kitchen fires have been caused due to the individual cooking falling asleep.
Utensils Too Close to Heat Source
Many home chefs have to multitask when cooking a meal. It's easy to set a cooking necessity such as an oven mitt near a heat source without realizing it. Be aware of where you set everything and always make sure any utensils, paper towels or other items are far enough away from heat sources.
Not Knowing How to Stop A Fire
A decision everyone has to make when a fire starts in the kitchen is "Should I attempt to put this fire out myself?" or "should I call 911 and wait for the fire department?" Depending on the type and size of the fire, the latter is usually the best option. You certainly wouldn't want to put yourself in harm's way trying to fight a fire.  In this situation, you will need to call a fire and smoke restoration company.  These companies can be reached 24/7/365 because we know, house and kitchen fires don't stick to a Monday – Friday 8 am to 5 pm schedule. As a homeowner, one of your quick reference numbers in your cell phone should be "fire damage restoration near me" so regardless of the time of day or night, you have this number handy.
Vintage Reconstruction is the fire damage repair company you can rely on in the event of a kitchen fire. While everyone knows what causes a kitchen fire, we are here for you any time an accident happens. Be sure to contact us for a complete evaluation and to ensure you get the best service possible to restore your home.
For more information about Fire Damage Restoration Service and the professional services that are offered to get your home back to livable conditions, visit https://vintagetx.com/