The Fire Damage Restoration Process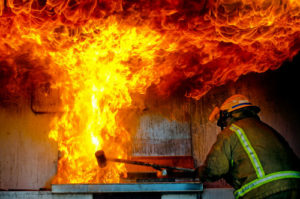 No one ever wants to have extensive fire damage to their home, but sometimes it's completely out of a person's control. The best thing to do is start the fire damage restoration process as quickly as possible to minimize damage and get back to living a normal life.
Having a reputable fire damage restoration company complete the work on your home could prevent major headaches later, especially when it comes to your insurance claims. Following these steps will help make the process for fire damage restoration as smooth as possible.
Contact 24/7 Emergency Services
Damage to your home can continue even after the fire department puts out the fire in your home. But the fire department won't repair a hole in your roof or replace a broken window before they leave, which could cause even more issues. Contacting a fire damage restoration emergency service immediately will help prevent further damage from occurring.
Have the Damage Assessed
A fire and smoke damage restoration technician will need to assess the complete extent of the damage to your home and property. The technician will evaluate the roof, ceiling, walls, electrical, furniture and other property and develop a plan for the next actions to take. The best fire damage restoration company will work with your insurance company to evaluate your insurance policy coverage so you understand completely what is covered and what you may have to pay out of pocket.
Prevent Further Damage
The fire damage restoration company will look for problem areas in your home caused by the fire. For example, a hole may have been burned through the roof, causing rain to come inside the home and spread the damage. These holes will be patched up for
damage control before proceeding further.
Fire Damage Cleanup
The fire damage cleanup process will begin once the damage is controlled. The service you hire will remove damaged furniture, clean the soot off walls, remove any water damaged items and clean smoke damaged items as thoroughly as possible. Many times, it's best to just throw away certain items and start over.
Repair and Restore
Once your home is cleaned, it's time to repair and restore it to make it look like normal again. Depending on the extent of the fire damage, certain items may have to be replaced rather than repaired. Again, the role of the fire damage restoration company is to be completely transparent with you regarding items covered by your insurance
company. They shouldn't proceed without your permission, especially if the money is coming from your pockets.
Vintage Reconstruction provides complete emergency restoration services different from our competition. We are not only reconstruction specialists, but we are also home insurance specialists. This simply means we work with you and your insurance company and ensure you get the proper coverage and assistance during this difficult time. Be sure to contact us for emergency assistance in the event of a fire at your home.
For more information about Fire Damage Restoration and how to let the professionals handle getting your home back to livable conditions, visit https://vintagetx.com/