Roofing Damage Repair: Don't Put it Off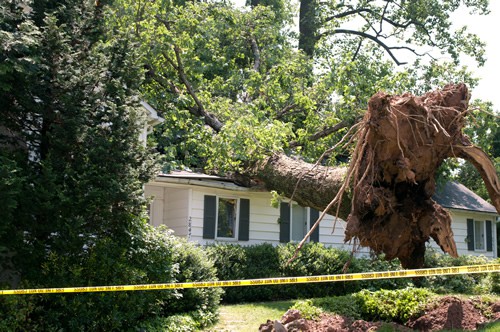 Roof damage can occur at almost any time. Summers are full of fast-moving storms while the winter might be plagued by rain, hail and other effects. Your roof protects the entire household from harm in these cases. The damage that the roof sustains can be substantial if a storm is bad enough. It's easy to overlook the damages because they're out of sight, but this action has dire consequences. Don't put off your roofing damage repair because several issues can develop over time.

Continued Weathering
Every roofing restoration company will tell you that ignoring a repair won't make it any better. In fact, the rooftop damage will continue to break down. Hot and cold temperatures create expansion and contraction issues with the damaged materials. Layers pull away from each other which allows more moisture from passing clouds and rain to enter the roofing system. It's possible to have a much larger problem in a few weeks or months instead of dealing with a minor repair right away.
Water Creeping In
Your San Antonio roof may just have some hail damage. At this point, you don't feel like it's worth the time to contact a roofing restoration company. This mistake can cost a lot of money, however. Those hail pockets probably have minute tears and holes into the roofing layers below. It's not unusual for these tiny anomalies to become pathways for water streams. A dewy or drizzly day is all that's necessary to moisten the rooftop and damage the home when the repairs aren't completed in a timely manner.
Serious Mold Growth
Putting off roof repairs allows nature to take its course. Mold tends to grow when moisture is present. The damages may have nooks and crannies that provide a perfect location for moisture entrapment. Mold and mildew growth and those spores can spread very quickly. They may invade other parts of the home, including the interior, which becomes more costly. Your family may be sensitive to mold too, which creates health problems until it's cleaned out.
Attic Memento Damage
Think about the state of your attic. It might be full of mementos because it's used as a makeshift storage area. Allowing the roof to break down after being damaged will only allow moisture into the interior space. The attic is the first casualty with all the contents being damaged beyond repair.
Potential Fire Hazards
Because water tends to be the main problem with rooftop damage, most people don't think about the fire hazards. Electrical wiring and powered systems might be housed in the attic. With water and weathering elements creeping indoors, these electrical wires can spark and cause a fire. Dealing with the damage in a timely manner reduces the chances of any problems.
Request a Roofing Damage Repair Examination
A reputable roofing restoration company is always pleased to help you with an evaluation. Request an examination, and they'll set up an appointment as quickly as possible. The experts will examine the roof from several angles, such as from inside the attic and walking across it. The examination must be thorough to see every issue occurring on the roof to create an accurate repair plan.
Storms might be a regular occurrence in San Antonio so take some control of the situation. When the weather clears, go outside and look for any visual damages. You don't have to climb on the roof, simply stand on the ground at different angles and look at the roof. If you see ANY damage, even if it looks minor, contact your roofing damage repair professionals. They'll be able to verify if the issue is important enough for an appointment.
For more information about roofing damage repair and what additional issues could arise if you ignore the damage, visit https://vintagetx.com/