5 Struggles Fire Damage Restoration Companies Understand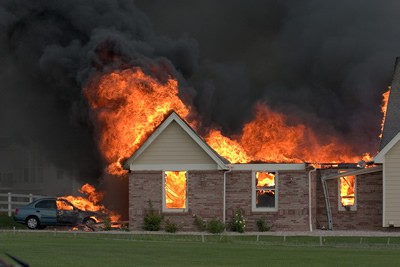 A fire in your house or office is an incredibly frightening experience. One room or an entire floor might be destroyed, which causes displacement of every person in that building. When it comes to recovering from fire damage, you'll need more than just the fire department's help. Explore the solutions offered by fire damage restoration companies, and how they deal with certain details for your recovery ease.
Damage Often Spreads
When you see fire damage in a room, it may look isolated to the drywall and wallpaper. Smoke damage repair specialists, however, must look beyond those obvious indicators. Soot and smoke can destroy the drywall, wood beams and electrical wiring that might be hidden within the walls. Reputable companies evaluate the main damages while investigating other areas. If the professionals miss any affected areas, the structure will perpetually have a strong odor and succumb to decline over time as materials break down.
Protecting from the Elements is Only the First Step
Fire restoration companies understand that they must visit the property as quickly as possible. Residents may be recovering from the fire department's visit, but bringing in the renovation experts must be a top priority too. Weather and unstable materials can create even more problems if smoke damage repair experts don't take measures to protect the structure. After an initial evaluation, the professionals cover the building with a tarp. It's quickly secured against any wind issues. The tarp won't be removed until the structure is sound enough to withstand normal, exterior conditions.
Hidden Areas Must be Evaluated
Unless you're familiar with the construction industry, you may not be aware of every intricate part of a home or business. Smoke restoration doesn't just consist of wall, floor and ceiling problems. The professionals also look into the central air system. Those long ducts and vents must be cleaned and repaired as necessary or else the structure won't have air conditioning or heating. After an evaluation, the experts give you an estimate on the repair costs. Your insurance should cover any losses if they're ultimately caused by the fire itself.
Deodorizing Should be Thorough
Cleaning and replacing materials in a fire-damaged home are not the only steps to a successful renovation. Reputable restoration companies will also deodorize the area. These deodorizers are industrial strength so that they neutralize any chemical reactions. The struggle that restoration experts must deal with is thorough coverage. Missing one section that's damaged might result in fumes that can last for months at a time. The company will deodorize the structure and test for any excess fumes afterward. They'll continue with the process until the odor is completely removed.
Restoration Companies Handle the Insurance Processes
A struggle that consumers don't have to deal with is the insurance process. As long as you have solid coverage, the renovation experts will work with the adjusters to restore your home back to like new. The office personnel processes the evaluation while matching it to the coverage. Claims adjusters and other insurance professionals work alongside the renovation team in order to resolve the issue with the structure. Because the restoration company is familiar with every insurance type, you won't have any frustrations as you come to terms with a fire loss.
A positive aspect of a building fire is the completed renovation afterward. Fire damage restoration companies, such as Vintage Reconstruction want your home or business to look like it's never seen the damage before. You'll see new materials and possible design changes to improve the building's safety after a repair process. Work closely with your repair professionals so that the property shines beautifully once again.
For more information about Fire Damage Restoration and how to let the professionals handle getting your home back to livable conditions, visit https://vintagetx.com/